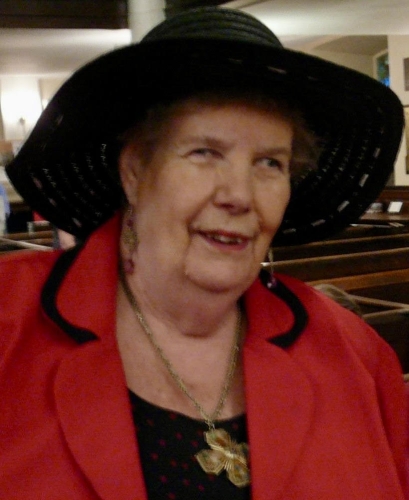 Publié le
Margaret Joan  »Joan Gibb » Cavanagh
1936 - 2022 (85 ans)
Québec
Better known to everyone as Joan Gibb, Margaret Cavanagh died on July 7, 2022, at St. Brigid's Home in Quebec City, only a week shy of her eighty-sixth birthday.
Born in Montreal, the only child of Edith Mae Gray and James Gordon Cavanagh, Joan lived and worked most of her life in Quebec City. A devoted Anglican Christian, partial to the High-Church tradition, she was a faithful member of St. Matthew's Church and later Trinity Church. In addition to her lengthy and indefatigable service as a key member of the staff of Church House, Joan at various times also served as a churchwarden, a life member of the Anglican Church Women and of the Church Society of the Diocese of Quebec, and lay member of the diocesan, provincial, and general synods.
Though she lived alone for much of her life, Joan cultivated many longstanding friendships, which she cherished and lovingly tended through notes, cards, phone calls, and visits. She was also a lover of animals, and frequently and happily cared for cats, dogs, and birds whose owners needed to be out of town. An avid traveller herself, among Joan's more notable destinations were the Holy Land, Greece, Ireland, and Florida.
Joan's earthly pilgrimage having now ended, she will be commended to the loving mercy of the God she loved and who she sought to follow and serve. Her funeral will take place at Trinity Church (2687 chemin des Quatre-Bourgeois, Québec) on Saturday, August 13, at 2:00 p.m.
In lieu of flowers, donations are invited to the organizations of which Joan was a regular and generous contributor: the Canadian Cancer Society, the Cathedral of the Holy Trinity, the Church Society of the Diocese of Quebec, the Fraser Recovery Program, Jeffrey Hale Community Partners, the Primate's World Relief and Development Fund, St. Paul's Church in Saint-Malachie, and Trinity Church in Sainte-Foy.